Because it resists water, scratches, and dents.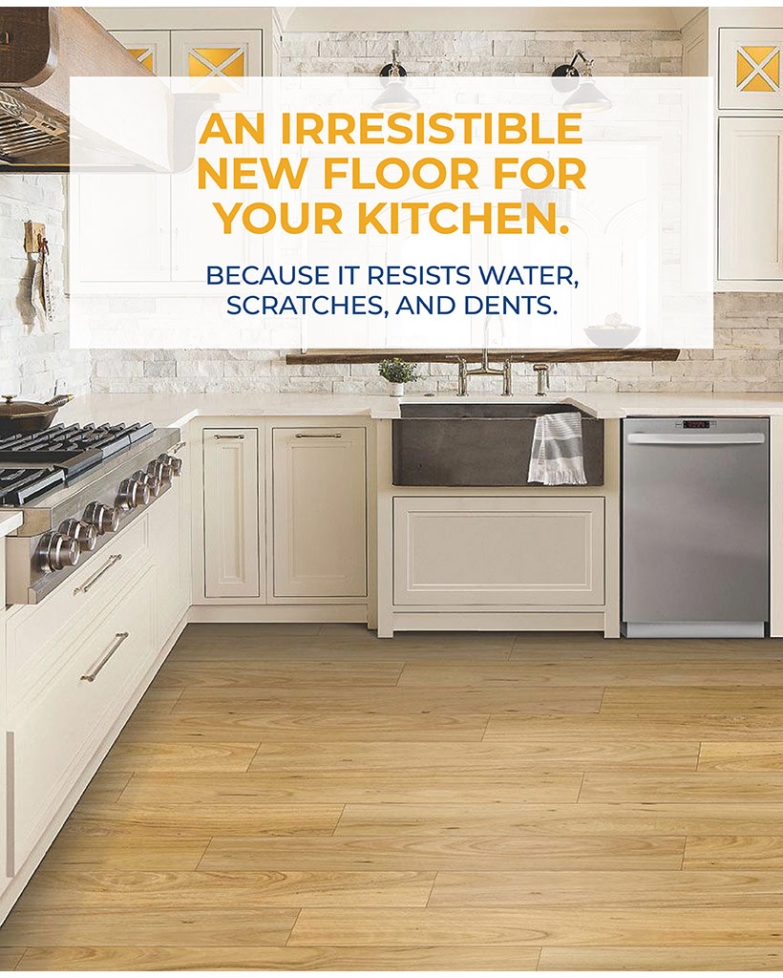 A truly exceptional luxury vinyl, Karastan LuxeCraft has long been lauded for its profound beauty. But it's also built from long-lasting, multilayer materials. Which means you could quite possibly be enjoying your exquisite new vinyl flooring for literally generations to come.
Luxury vinyl flooring generally comes in two varieties. Luxury vinyl plank, also referred to as LVP, mimics the look of real live hardwood. And luxury vinyl tile, again often shortened down to just LVT, captures the appearance of natural stone tile like marble, slate or travertine.
Since wood look vinyl flooring is so wildly popular right now, we thought we'd take a quick, closer look at some of the top options that come to you exclusively from the highly-coveted Karastan LuxeCraft collections.
Like the look of ash LVP? Then you're batting 1000.
Real ash hardwood not only inspired a beautiful vinyl plank, it's also still used for hockey sticks and baseball bats. The LuxeCraft iteration features a light beige color with a relatively straight grain that makes it a "hit" if you happen to have an open floor plan or a room that gets a lot of natural light.
It also provides a range of color to add character and visual interest to your home without making it feel overly busy.
Oak LuxeCraft comes in a veritable cornucopia of colors.
Oak still accounts for roughly two-thirds of all of the hardwood flooring that's installed in the U.S. today. So it's no surprise that it's one of the most popular choices in luxury vinyl flooring as well.
Karastan LuxeCraft oak spans a vast array of truly beautiful hues in addition to appearing in three of its different collections. Thanks to this versatility, this eye-catching vinyl flooring can support a variety of different décor styles, including classic, contemporary, country and rustic.
And here's a tidbit of trivia for you. Just like it does in the real tree world, in vinyl plank flooring, white oak flooring is actually darker than red oak flooring. Who knew? Now you do.
Hoping for lighter and smoother? Try Maple luxury vinyl.
In addition to hardwood flooring, maple is used to carve art sculptures and to handcraft children's toys. Fittingly, once recreated into some of the best luxury vinyl plank out there, it makes a perfect choice if you happen to have kids. The flooring is quite a bit softer underfoot than traditional hardwood. Plus, it can stand up to the pitter-patter, not to mention wear-and-tear, of little feet.
By nature, maple hardwood flooring is distinguished by a decidedly straight wood grain that provides a sleek, clean, homogenous look. Of course, the nine available LuxeCraft selections in maple follow suit.
Hickory says don't be afraid of the dark. And the light.
In contrast to the uniformity we just mentioned with maple, hickory luxury vinyl flooring features strong, striking contrast colors. We're talking mocha tones and creamy beiges all on the same luxury vinyl plank. So if you want to create a rustic, estate-like or country feel in your home, hickory would make an excellent choice.
That being said, if a mere contrast in colors isn't enough to float your proverbial boat, two of the Karastan LuxeCraft hickory options are also available in a herringbone pattern. In case you want to zig while everyone else is zagging.
One more LuxeCraft category to go nuts over: walnut.
Walnut is the only dark hardwood that's native to North America. So it's not surprising that most people think of it in its darkest state, which is typically a coffee or deep chocolate color. Yet different sections of the tree are imbued with different hues. Which is no doubt why LuxeCraft also offers you a light brown luxury vinyl alternative.
Eastern black walnut trees can live to be up to 150 years old. At that advanced age, they're typically as tall as 150 feet high.
What isn't a tall order is seeing all four of the fabulous LuxeCraft collections for yourself. Just stop by any Carpet Exchange. For any room in your home, it's an incredible floor you'll warm up to in a hurry.