If you're not satisfied, we're not satisfied.
Because it's you and your family who will be standing on our flooring products, we stand squarely behind them. That's why we offer you the three following guarantees:
1. We guarantee you'll get the lowest price in town on all of our flooring products. We can also get you great deals on slab granite countertops and installations, but we can't guarantee you our typical without-a-doubt lowest price on those.
2. We guarantee our products will meet or exceed all the manufacturer's warranties.
3. We guarantee our professional installations for life. "Life" is determined by each individual manufacturer as outlined in their warranty.
INSTALLATION
We work with some of the very best installers in the industry. Which is why we can also confidently offer you the following incomparable installation guarantees:
On any residential carpeting we install for you, we guarantee that installation for the lifetime of the flooring–as defined by that individual manufacturer's warranty.
For tile, hardwood, vinyl and granite, we guarantee our installations for a full year.
And for any of our in-stock flooring products, we guarantee we'll have them installed for you in 10 days or less.
Of course, for repairs caused by flooding, improper cleaning, or repairs you tried to do on your own, unfortunately, you're on your own.
MANUFACTURERS
At Carpet Exchange, we honor all of our manufacturers' warranties regarding quality, endurance and even stain resistance. For any manufacturing defect that is substantiated, we'll either correct the problem to your complete satisfaction or the flooring will be replaced at absolutely no cost to you.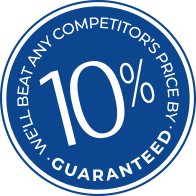 PRICE
Because of our incredible buying power at Carpet Exchange, we're able to bring you the lowest flooring product prices in town. Of course, since slab granite countertops and installation labor are not flooring products, those are not included.
In fact, we guarantee we'll beat any competitor's price quote by a full 10%. That way you can focus all of your attention on picking out the perfect flooring for your home, instead of wondering whether you could have gotten a better deal.
For all the in-depth details on all our guarantees, just come to your closest Carpet Exchange store.