And patterned carpet gives you plenty of options to play with.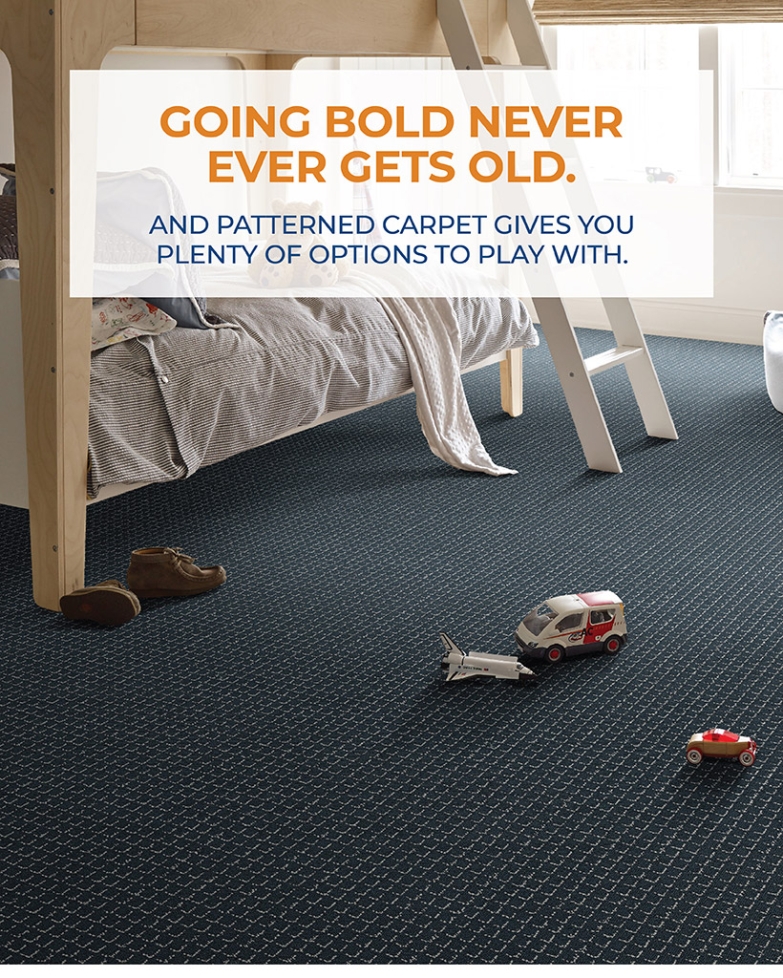 You know that very biggest, bodacious box of crayons? Multiply that by about a gazillion times and that's the kind of versatility patterned carpet can bring you.
We're talking downright beautiful designs like a chevron carpet, diamond carpet, floral carpet or even a lattice carpet. Plus, it's available in just about every color under the sun.
So if you want a new carpet that you'll adore that visually pops off the floor, a patterned alternative could be just for you. Here's a quick glance at the how, the why and the where for these unique carpets.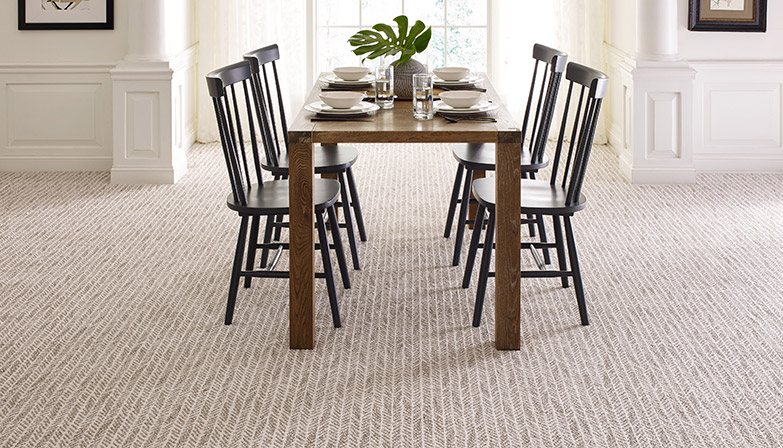 How top manufacturers create incredibly cool carpet.
Some of the top carpet companies in the world like Karastan carpet, Mohawk carpet and Shaw carpet make truly exceptional patterned options for you to choose from. And they all rely on three fundamental tactics to make that happen.
To-die-for dyed carpets. The first trick-of-the-trade is to dye the particular pattern you want onto the carpet. Naturally, that means using a secondary dye that's both contrasting but also complementary. If you do use multiple hues that gives you more options to coordinate with as you select other accent pieces for your room.
A cut above cut and looped. Another way to make your new carpet stand out above the rest is to use a combination of cut fibers and looped ones. By doing so, the individual strands stand at different heights which allows the pattern to emerge brilliantly.
Say hello to high-and-low. The final option is to use all looped fibers but again strategically make some of them taller and others shorter. This kind of patterned carpet is both eye-catching and elegant all at the same time.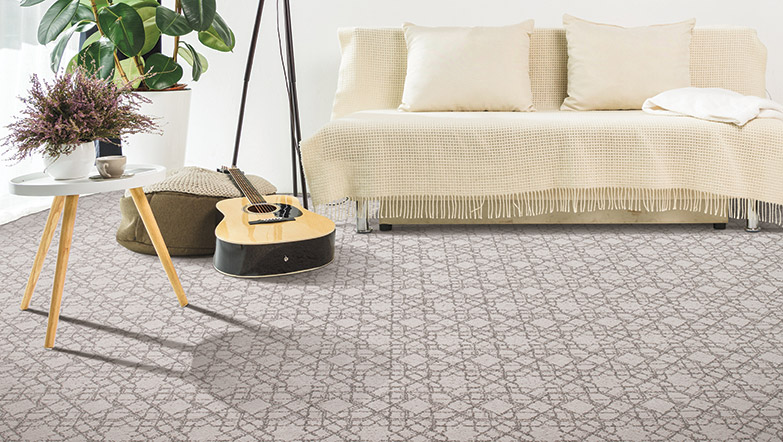 Why patterned carpet? Because it can do a lot for you.
This kind of carpet isn't just stunning to look at, it can accomplish a lot for you too. Here are a couple of the top feats for this versatile performer.
A great way to shrink a room. Have a room that feels a bit too big? A carpet with a large repeating pattern can make it feel smaller and more intimate.
Don't let size cramp your style. It's admittedly kind of counterintuitive. But a bold pattern like stripes can also serve to make a small room feel significantly more open and airy.
Hide dirt, dust and dog hair. While a neutral colored carpet is definitely more calming, it's easy to see that even a little debris will stand out visually. Using a busier patterned carpet can mitigate that effect and also dovetail nicely if you happen to have a busy lifestyle.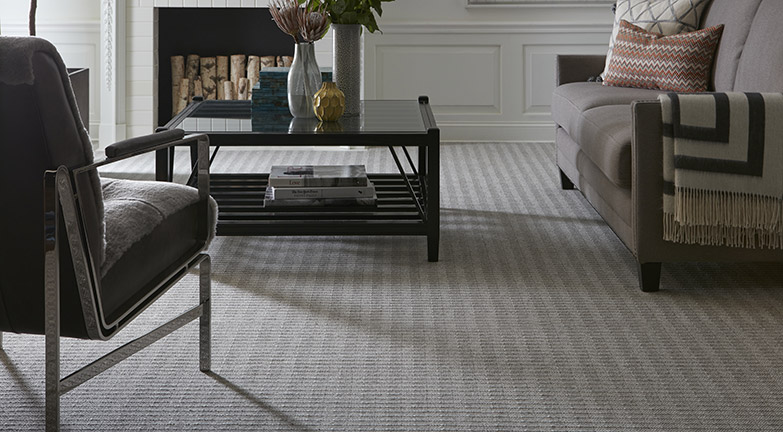 Where patterned carpet always feels right at home.
Living room carpet has long been a popular choice since it helps create an inviting environment where your friends and family will want to linger. Soft, sumptuous fibers underfoot can also transform your bedroom into a relaxing oasis. Both are a perfect place to introduce a pattern.
But high traffic avenues like hallways, stairways and landing areas can also benefit from this superior carpet. And, of course, giving your kids carpet in a rec room where they tend to crawl around on the floor will make you both feel warm and fuzzy.
The even better news is that there are an almost unlimited number of options to choose from in the realm of patterned carpet. And you'll find them all right here at Carpet Exchange. So please consider this your engraved invitation to come in and play.