But making the holidays special is as easy as pie.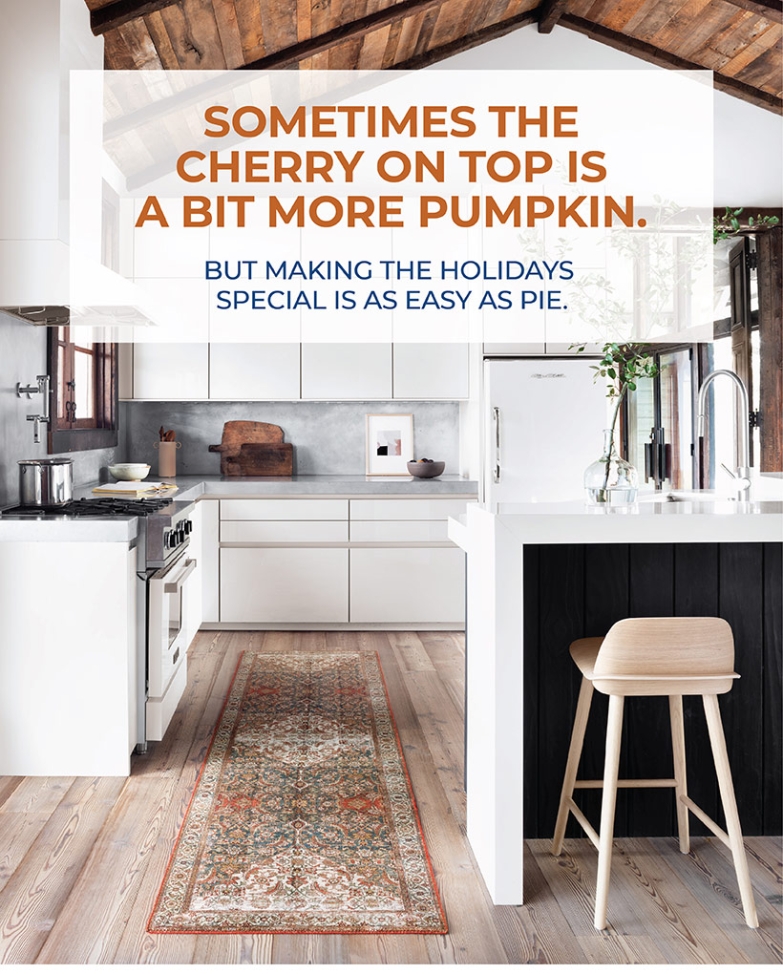 Here's a simple surefire way to demonstrate your impeccable taste and make your home feel far more inviting this Thanksgiving. Just roll out a spectacular new area rug or runner. It's literally that easy.
Whether you're looking for living room rugs, dining room rugs, bedroom rugs, or just some small area rugs designed to catch debris in front of your exterior doors, there are about a gazillion and one beautiful options out there for you. So here's a look at what's trending for 2023 to help you narrow down that search.
Natural fibers: a good look that's great for the environment.
Plenty of popular rugs these days are made from natural fibers such as sisal area rugs, jute area rugs, wool area rugs, and cotton area rugs. You can even opt for a bamboo area rug if you choose. These types of rugs continue to increase in appeal in part because they help us stay connected to nature. And since you can easily grow more or shear them from sheep, this is a resource that's easily replenishable.
Many of these alternatives are super soft which makes them ideal for the likes of living room area rugs. In fact, you can put a natural fiber rug just about anywhere you want to in your home. Plus, with textiles in general trending toward earth tones, going this route is definitely a natural.
Don't be a square. Consider a uniquely-shaped area rug.
While an 8x10 rug, a 5x7 rug, or 9x12 rugs are all deemed to be standards in the flooring industry, that shouldn't stop you from taking a different path and going with something decidedly more out-of-the-box. And we aren't just talking about round rugs or oval rugs either.
Truth be told, traditional angular shapes can make your room feel blocky and closed off. Which is why more irregular, curvaceous area rugs are finding their way into homes across the country. There are even cowhide rugs for sale that look like real-live cowhides but are more durable and longer lasting.
And if you ever get tired of that particular pizzazz, simply roll up that rug and move onto something else that moves you.
Ready to pile on more than ever? The shag is back.
You know what they say. What goes around, comes around. And that clearly holds true for these area rugs that originally had their heyday back in the 70s. Is that the way you like it, uh-huh, uh-huh?
Uber-deep shag rugs are luxuriantly soft underfoot. So if you're trying to decide the best spot to put one, think about the areas in your home where you tend to be barefoot most often. An incredibly soft shag rug in your bedroom would probably be our top pick. So your feet can have a treat first thing each and every morning.
Looks like a vintage area rug. Even when it's brand new.
You shouldn't have to wait for decades to have what looks like an heirloom area rug and now you don't have to. Because a number of the top rug manufacturing companies are offering precisely that. Loloi area rugs are one of our favorites.
A little patina here, what is seemingly wear and tear there. This class of area rugs comes complete with plenty of character. Choosing a vintage rug is akin to adding a new chapter of history to any room.
Regardless of the particular look of area rugs you're looking for, at Carpet Exchange we have literally thousands of options to choose from. Including top brands like Oriental Weavers, Nourison rugs, Karastan area rugs, and Couristan area rugs.
Come see them all for yourself. Then offer your friends and family a far warmer welcome than ever.