Pick up fabulous flooring at our end-of-the-year prices.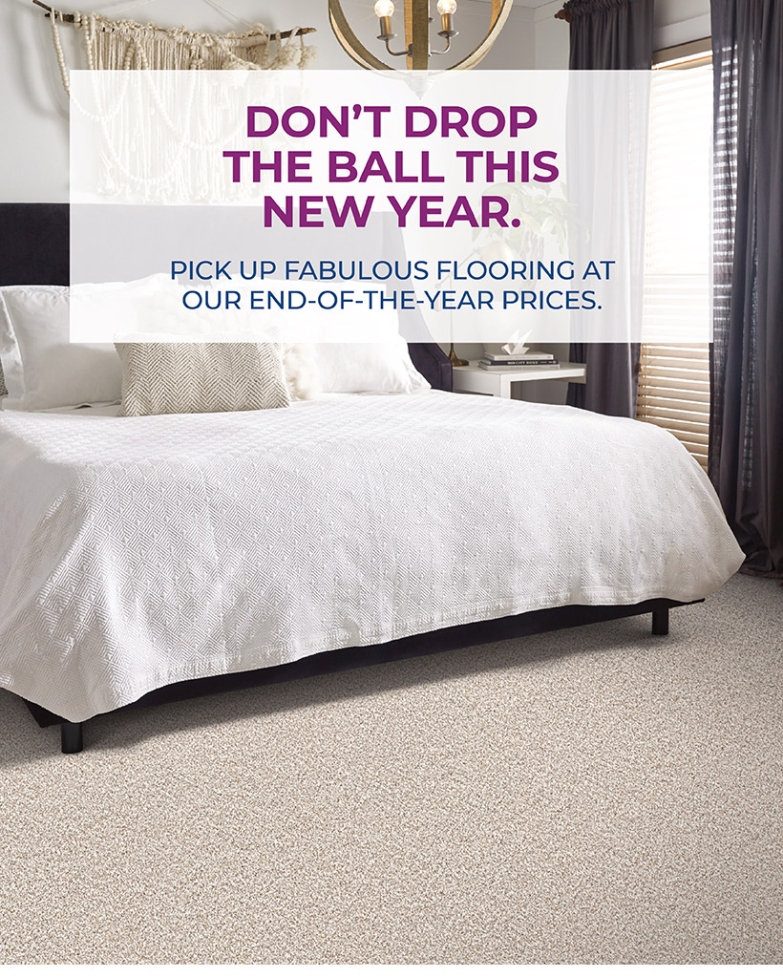 Want to get the ball rolling so that you can enjoy an even happier New Year this year? Just add some spectacular new flooring into your home. Right now, you can get three soft, sumptuous rooms of carpet for only $699 installed*. That deal alone is worth breaking out your noisemaker about.
Of course, Carpet Exchange is also your COREtec luxury vinyl headquarters. For this sale, you'll find COREtec options starting at an incredibly-low $1.99/sq. ft. Not to be outdone, select area rugs are half off! Plus, beautiful hardwood, in five distinctive colors, is factory-priced at only $3.99/sq. ft.
So come see plenty of top-quality flooring products at rock-bottom prices to celebrate the upcoming New Year. Just don't be surprised if you have a ball doing so.
*Based on 360 sq. ft. with base pad. See store for details on all deals.
3, 2, 1…meet three rooms of carpet for a really low price.
The countdown to Happy New Year is always a thrill if you still stay up that late. But what's even more exciting all day long is this amazing deal on carpet that even includes professional installation. Yep, three rooms of high quality carpet for only $699.
So if you love carpet, you're going to adore floors that feel so infinitely comfy underfoot. Carpeting also offers superior soundproofing capabilities. Which is yet another reason why living room carpet transforms that space into a place where friends and family alike will all want to hang out.
Make life a lot prettier and easier with COREtec luxury vinyl.
Thanks to its ever-evolving technology, COREtec luxury vinyl plank and luxury vinyl tile just keeps on getting more realistic-looking than ever. And by that we mean the spitting image of real live hardwood and natural stone tile.
Speaking of spit, if your dog has a tendency to slobber or your kid happens to bobble a juice box, that's no problem whatsoever. Because COREtec vinyl flooring is 100% waterproof, petproof and kidproof. In fact, this exceptional vinyl flooring can stand up to literally whatever your busy family can throw at it.
Start the New Year on a roll. With a ravishing new area rug.
If variety is the spice of life, area rugs may very well be the entire spice rack. At Carpet Exchange, you'll find literally thousands of stunning options to choose from. Bedroom rugs, dining room rugs, living room rugs, we pretty much carry them all.
We also feature some of the very best area rug manufacturers on the planet. Naturally, this includes Nourison rugs, Oriental Weavers, Mohawk area rugs, Karastan area rugs, and Couristan area rugs.
You think of it as hardwood. We'll call it a work of art.
After all these years, the sheer beauty and elegance of hardwood flooring still takes our breath away. Just like you, real wood flooring truly is a one of a kind. And that holds true for oak hardwood flooring, maple hardwood flooring, natural hickory flooring, and many others.
To help celebrate this coming New Year, it gets even better. Right now, we have five different hues of hardwood for you to choose from and they're all available at the low, low, factory direct price of just $3.99/sq. ft. Some of the best wood flooring at a price point like that is hard to turn down.
Three rooms of carpet, COREtec luxury vinyl, area rugs, and hardwood. They're all waiting for you exclusively at Carpet Exchange. So be sure to drop by.