Some consequential tips on countertops.
It used to be that countertops lived a rather utilitarian existence. But those days have come and gone. Today, based on their beauty and how well they perform, countertops are taking center stage both in the kitchen and even in the bathroom. Here's what you need to know so you can make the right choice for you.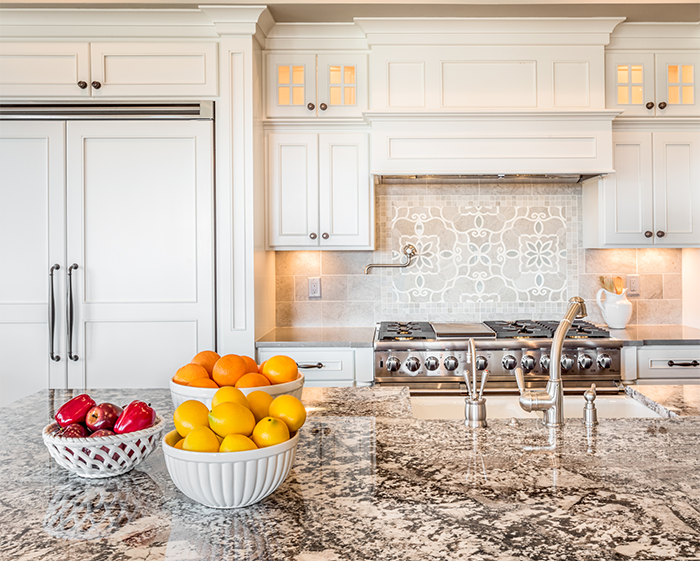 GRANITE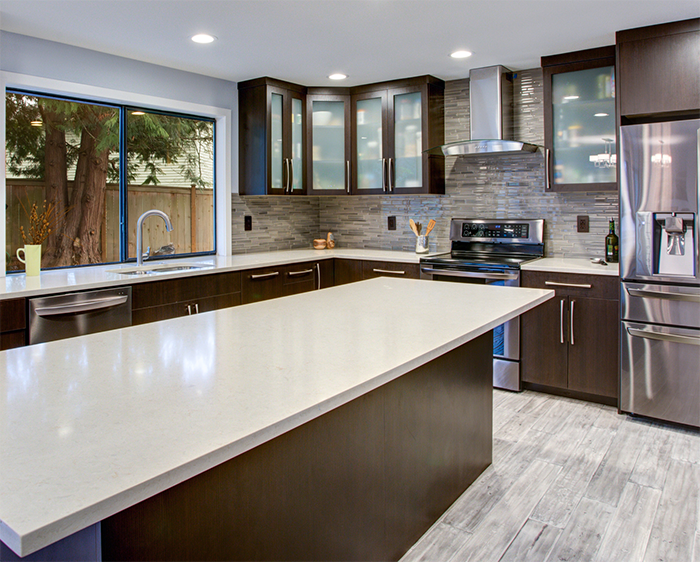 QUARTZ
TWO TYPES THAT'LL ROCK YOUR WORLD.
When it comes to countertops, there are two materials that are hands-down the most popular choices around. And they're both made from natural stone: granite and quartz.
Both look truly spectacular and, particularly in your kitchen, can become a stunning focal point of the whole room. Granite countertops and quartz countertops actually do share a lot of common characteristics, but there are a few differences between the two. But perhaps what's best of all, you really can't go wrong with either choice.
Here's a quick overview on each of the options.

WITHOUT A DOUBT, ONE OF A KIND: GRANITE COUNTERTOPS.
Granite is mined from humongous slabs in quarries all over the world. Not only is it 100% natural, it's an extremely hard stone. Which is why it can stand up to the heat, sharp knives and rigors of your modern day kitchen.
Each piece of granite features lots of veining, crystallization and shading that truly translates into no two pieces ever being precisely alike. Granite countertops are is, in a word, gorgeous.
Even though you're starting from an enormous slab, depending upon the size and configuration of your kitchen, you may end up with a seam. But other than that you'll have one continuous, smooth surface. Which make it easy-as-can-be to wipe down and work on.

NEARLY DIAMOND-LIKE HARDNESS: QUARTZ COUNTERTOPS.
Quartz, too, is a natural stone that is mined from quarries. Yet if you choose this route, your countertop will be a space-age composite of 95% pulverized quartz and 5% polymer resins.
Quartz is literally one of the hardest stones on earth, only being surpassed on the Moh's Hardness Scale by diamonds, topaz and sapphire. This makes it extremely hard to scratch, resistant to heat and supremely easy to maintain.
Quartz is visually dazzling as well, but has a somewhat more uniform appearance if that's the clean look you're looking for.
AN ARRAY OF EYE-CATCHING COLORS.
From viscount white to black pearl and from iceland to coastal gray, you're bound to find a countertop hue that will excite you.