Luxury Vinyl
Luxury Vinyl
Why luxury vinyl is no longer an oxymoron.
An incredible blend of beauty and durability, luxury vinyl flooring (or LVT as some call it) looks just like real hardwood or natural stone. Today's luxury vinyl looks surprisingly realistic thanks to a far better photographic layer and the addition of true texture. Here are a few of the ins and outs of why it might make an outstanding choice for you too.

WHERE YOU CAN PUT LUXURY VINYL FLOORING. ANYWHERE.
Since luxury vinyl plank and luxury vinyl tile are 100% waterproof, they can live literally anywhere in your home. And that includes spots where moisture is an ongoing issue, like bathrooms, laundry rooms and basements.
Luxury vinyl flooring is also amazingly durable, which makes it the perfect selection for rooms that get high traffic or anywhere your kids and pets tend to gather to goof off. Based on its profound ability to last, a number of manufacturers offer 15-year, 30-year or even lifetime warranties.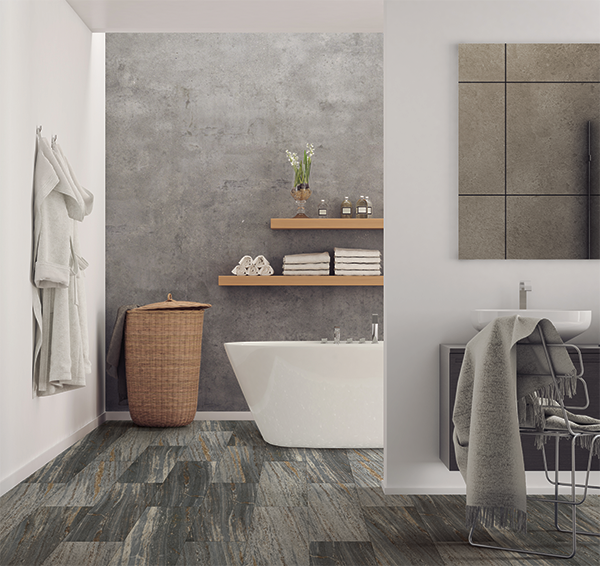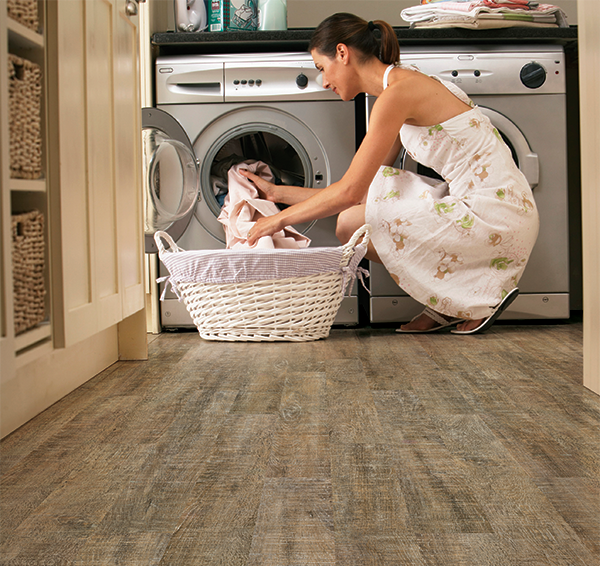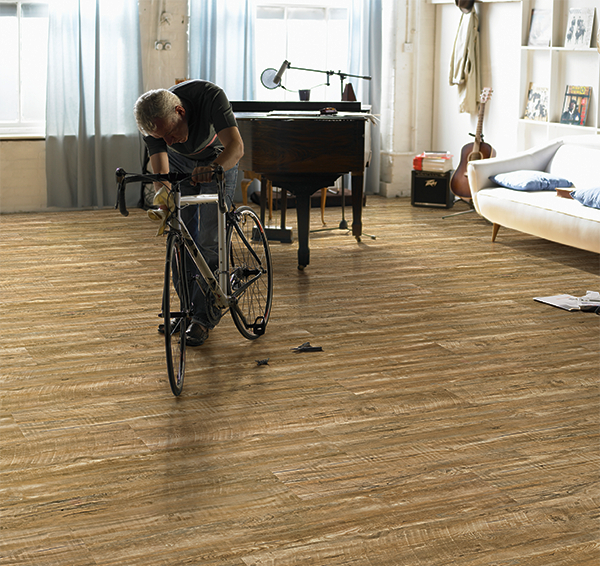 SEE WHAT YOU THINK FOR YOURSELF.
While luxury vinyl flooring looks exceedingly real, we thought we'd let you make up your own mind. In the side-be-side comparisons below, see if you can truly pick out which one's the luxury vinyl. Just hover your cursor under each picture to see the answers.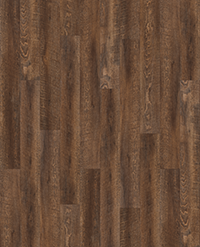 LV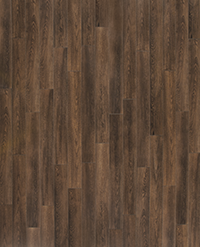 HARDWOOD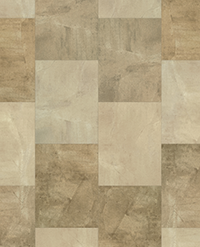 LV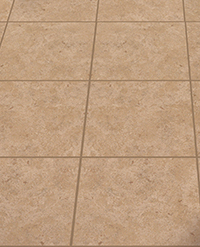 STONE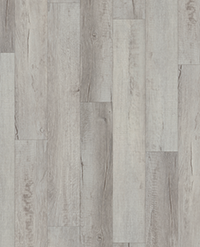 LV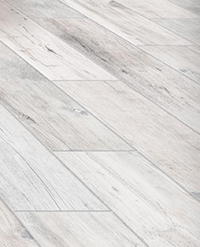 CERAMIC TILE
THREE TYPES THAT DIFFER BY SHAPE AND SIZE.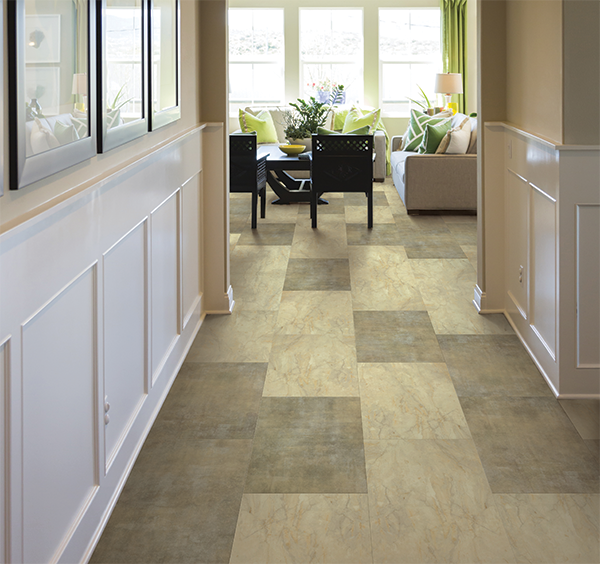 TILE
Luxury vinyl tile typically comes in 12" x 12" or 16" x 16" squares. Some styles that are designed to simulate stone or ceramic tile can even be installed including grout. Which continues to up the ante when it comes to the perception of pure realism.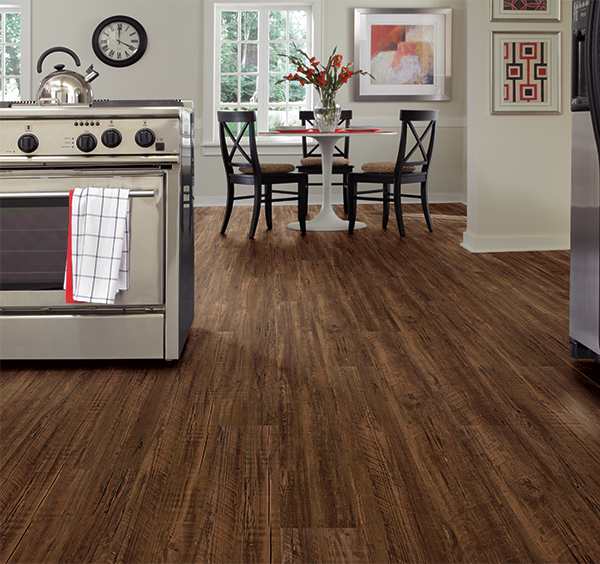 PLANK
Since hardwood itself comes in planks, now luxury vinyl plank does too. A common plank size is 48" x 7". This also affords you the ability to have it installed in decorative patterns like brick or herringbone just like you can with traditional hardwood.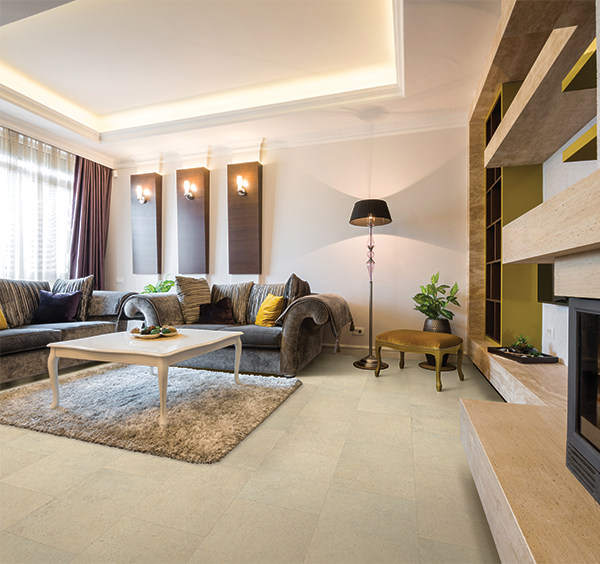 SHEET
Just what it sounds like, luxury vinyl is also available in huge sheets that can be as wide and as long as your room. So it's possible you might not have to have any seams.

A QUICK GLIMPSE OF WHAT IT'S MADE OF.
Luxury vinyl that's designed to look like wood is made of 100% vinyl. On the other hand, if the goal is to mimic natural stone, it's typically as much as 75% limestone and 25% vinyl. Which further helps it look like real stone, since it has real stone in it.
THE FOUR LAYER SCIENTIFIC FORMULA.
Luxury vinyl flooring has four unique layers. Here's a look at each from the top on down.
1
WEAR LAYER
This clear layer protects against scratches and wear, makes it easy to clean, plus provides protection against dirt and stains.
2
LUXURY LAYER
Here's where the visual magic occurs, courtesy of the high quality photographic printout, sometimes with 3D texture on top.
3
CORE LAYER
High-density fiberboard provides serious stability and durability. Overall, it also makes your floor more soundproof.
4
BACKING LAYER
As a finishing touch, this layer provides a surefooted base for it all and creates a waterproof barrier to prevent warping.

ONE CHOICE OF NOTE: CORETEC PLUS.
While all luxury vinyl is all the rage these days, there is one particular variety that seems to be taking the industry by storm. It's an engineered luxury vinyl called COREtec Plus that includes a proprietary high-density waterproof core. In fact, you could submerge that core underwater for a full month and it wouldn't warp one bit.
The Plus comes from making the bottom base layer from cork, which provide added warmth, sound insulation and feels very comfortable underfoot.
The end result is a beautiful floor that's also 100% waterproof, kidproof and petproof. Which we'd call 100% awesome.