Extend your carpet knowledge wall-to-wall.
We're not going to call you on the carpet for not knowing every little nuance about carpeting just yet. But chances are, at some point you'll want to buy some for your home. So here are a few things you need to know so you can make all the right decisions when you do.

WHERE CARPET FEELS RIGHT AT HOME.
The "C" in carpet could very well stand for comfy. Because it's extremely cushy and feels wonderful underfoot. Which makes carpeting a great choice for bedrooms and anywhere your kids or pets might literally be crawling around on the floor, like family or rec rooms. Carpeting also provides a sumptuous surface for your living room and will make your friends and family want to linger there.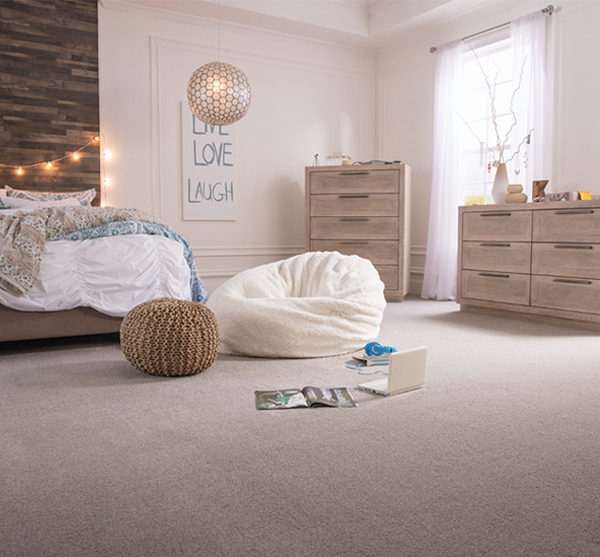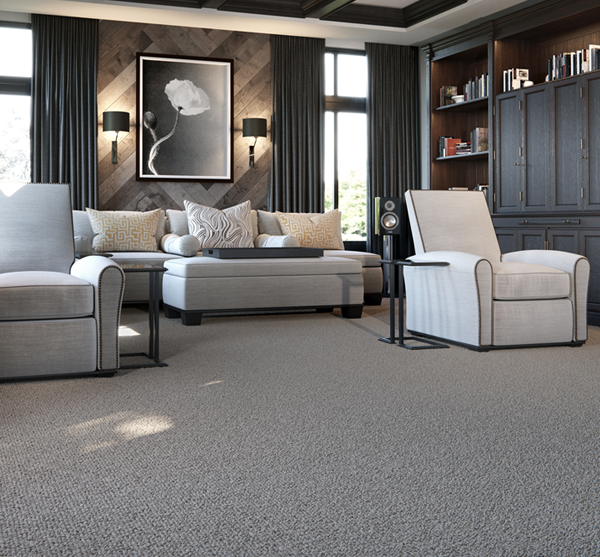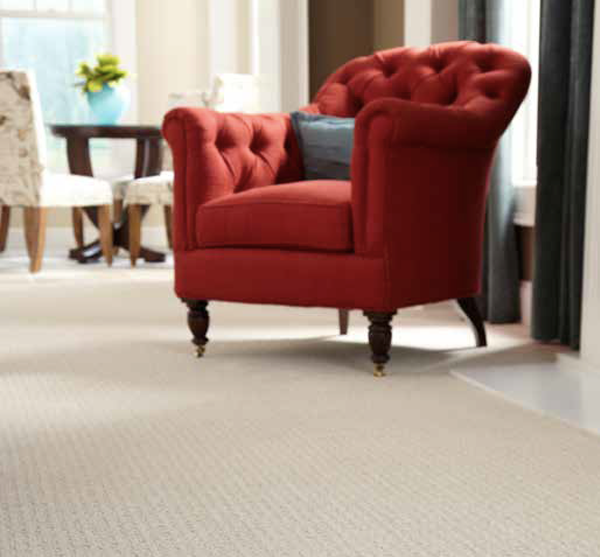 WHAT TYPE OF CARPET IS YOUR TYPE?
Fundamentally, carpeting is rolled into five different categories depending on the materials that are used to make the fibers for each. Over 90% of the carpet on the market today is synthetic. Here's a quick look at each.
NYLON

Nylon is still one of the most sought-after fiber types in the residential carpeting market. It resists fading, heat, soil and stains and can be dyed into a gazillion different colors.

SMARTSTRAND AKA TRIEXTA

A marvel of modern engineering, SmartStrand carpet has stain and soil protection built right into ever fiber. Which is why, in some circles, it's aptly called Forever Clean Carpet.

POLYESTER

Disco may be dead, but polyester is still a popular carpet. While not as resilient as nylon or SmartStrand/Triexta, it offers good heft and color clarity, plus resists stains and fading.

WOOL

Wool carpet is wonderful, durable, and luxurious. It even filters and purifies your air. Plus, it's non-allergenic and protects you from dust mites and bacteria. Think lifelong friend.

ACRYLIC

Acrylic is the closest synthetic substitute to wool, at a lower price. It's also easier to clean than wool, isn't susceptible to moth damage, and actually wicks away moisture.
CARPET STYLES TO FIT YOURS.
There are fundamentally two styles of carpeting. One where you leave the fibers in loops and the other where you cut those loops.
CUT PILE

TEXTURED
Solid or two-tone, hides footprints and vacuum marks well.

SAXONY
Plush velvet look and luxurious feel. Exquisitely formal.
LOOP PILE

LOOPED
Also called berber, ideal for casual, active family rooms.

PATTERNED
Multiple loop heights allow for visually stunning patterns.

CUT AND LOOP
The combo of cut and looped fibers delivers striking designs too.
A FEW WORDS ABOUT CARPET PADS.
While the bona fide pro installing your carpeting will need to cut a few corners, that's not something we recommend you do with your carpet pad. The pad you choose will have a lot to do with how well your carpet wears. So upgrading to a better one is always a good idea if you want your carpeting to last.