Let's roll out a few key facts about area rugs.
Some of the most exquisite works of art are not hanging in a museum. They're proudly adorning the floors in homes like yours. And while there are literally thousands of these phenomenal area rugs to choose from, it is indeed wise for you to learn more. That way, the more fun and productive it will be once you actually begin to shop.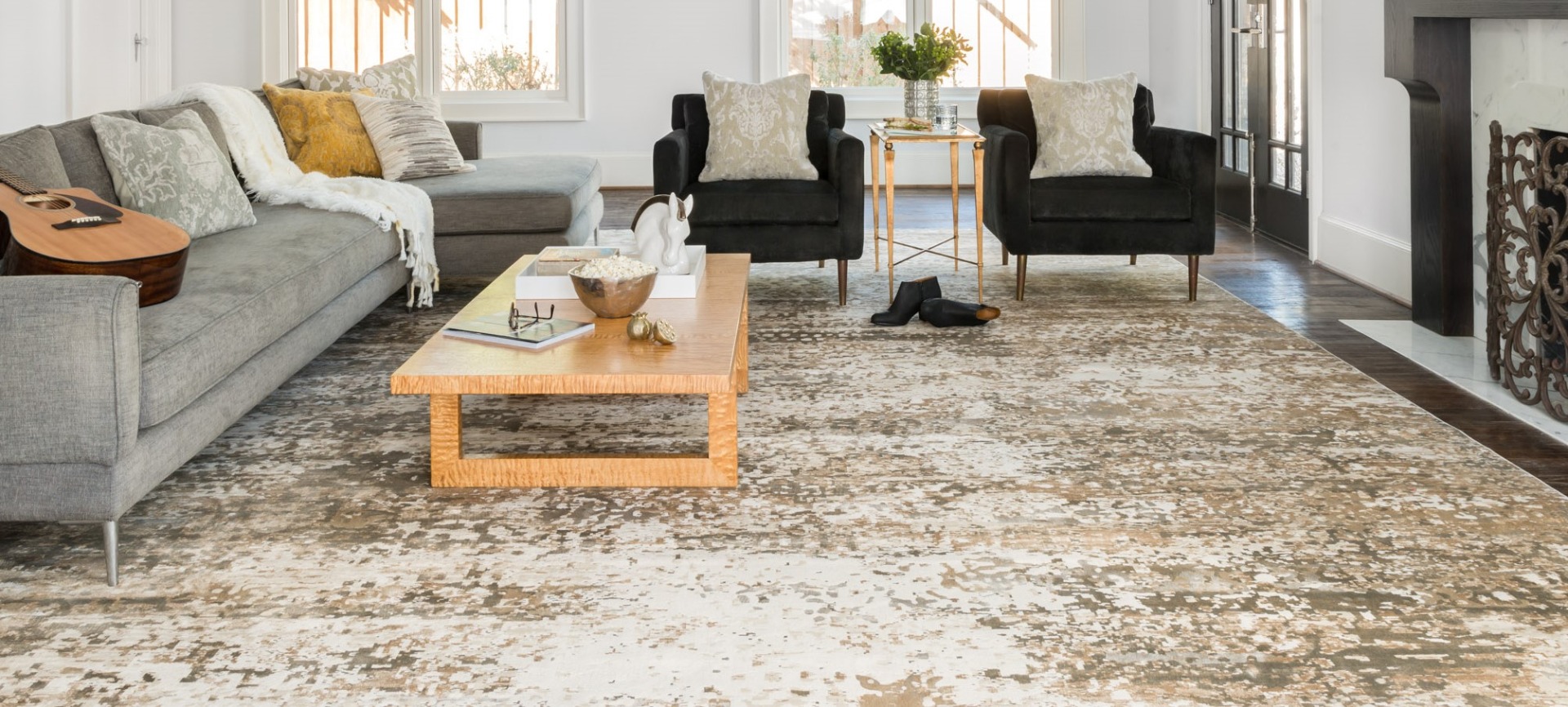 WHAT AN AREA RUG CAN DO FOR YOU.
An area rug can serve as a stunning centerpiece, or you can use it to tie together the décor of entire room. It can also help you define a space. The right rug can create a conversation area, designate an eating space, provide a warm welcome in your entryway, or usher your guests down a hall.
Putting an area rug over a hardwood or stone floor makes your room feel softer, warmer and quieter.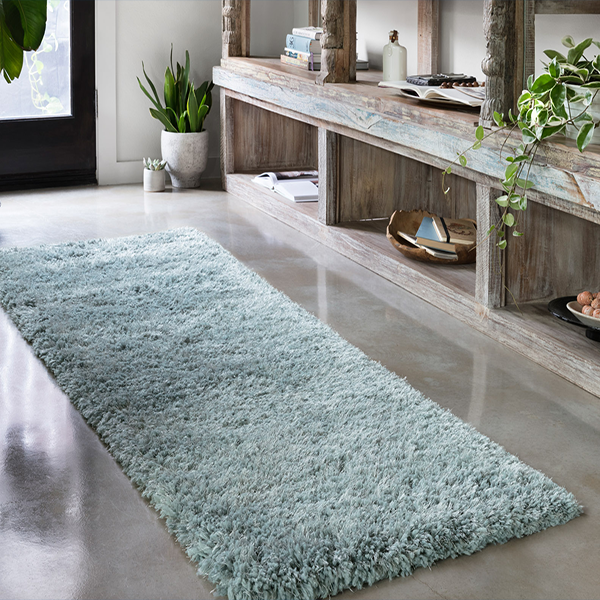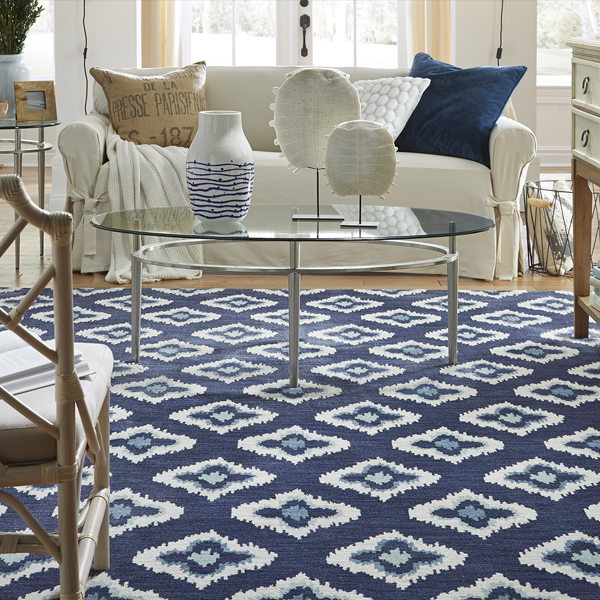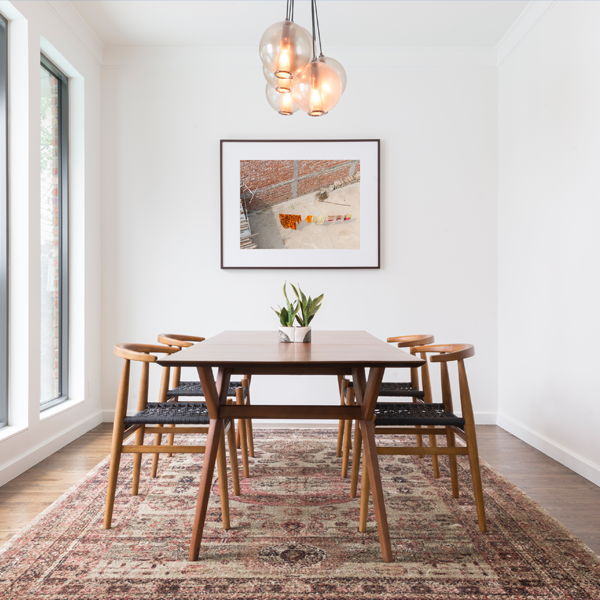 SIZING UP THE RIGHT RUG FOR YOU.
While area rugs come in all shapes and sizes, finding the rug that fits your space perfectly is going to have a big impact on which one you ultimately buy. Consult the diagrams below, then get out your tape measure and size up your needs. And be sure to measure more than once.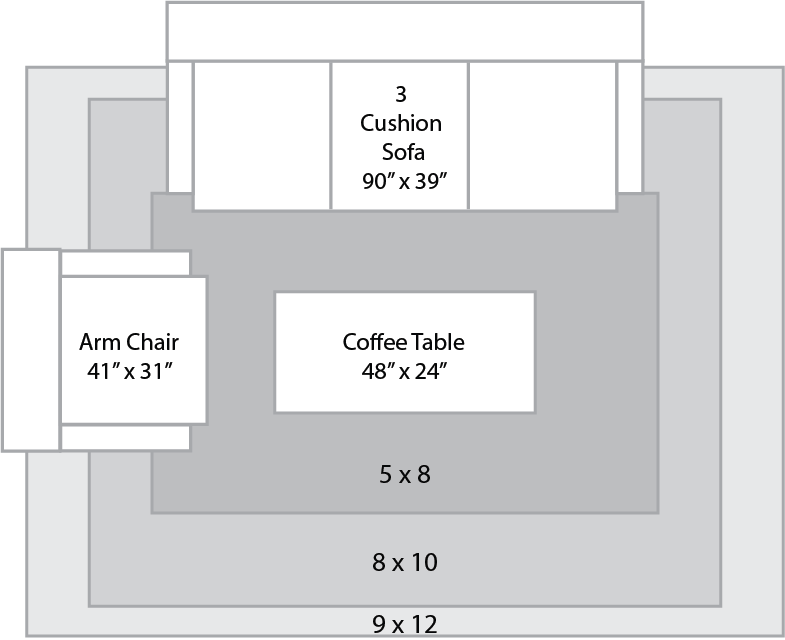 LIVING ROOM
As a rule of thumb, living room rugs should at least extend to under the front legs of your furniture.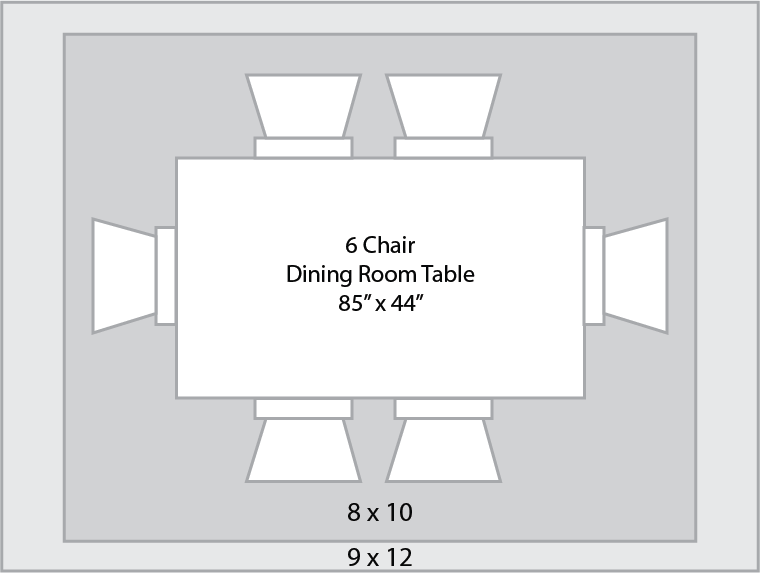 DINING ROOM
Make sure your dining table rug is big enough to cover the space around your table with the chairs PULLED OUT.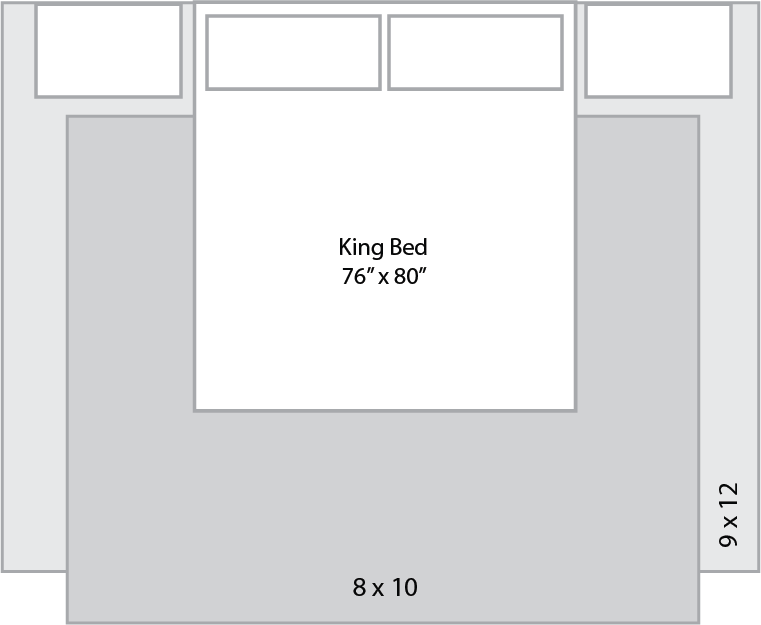 BEDROOM
The best bedroom rugs cover the whole space around your bed and furniture or just a part of it.
STUNNING STYLES TO MATCH YOURS.
The rug that you fall head over heels for will depend on your own personal taste and style. But here are few of the most common categories.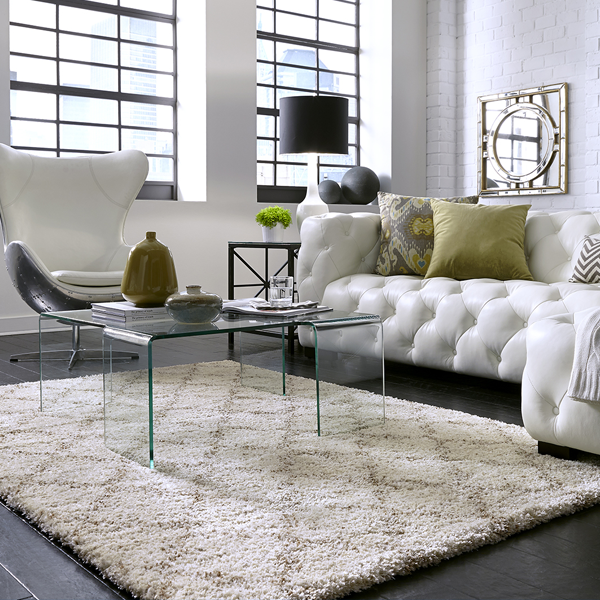 CASUAL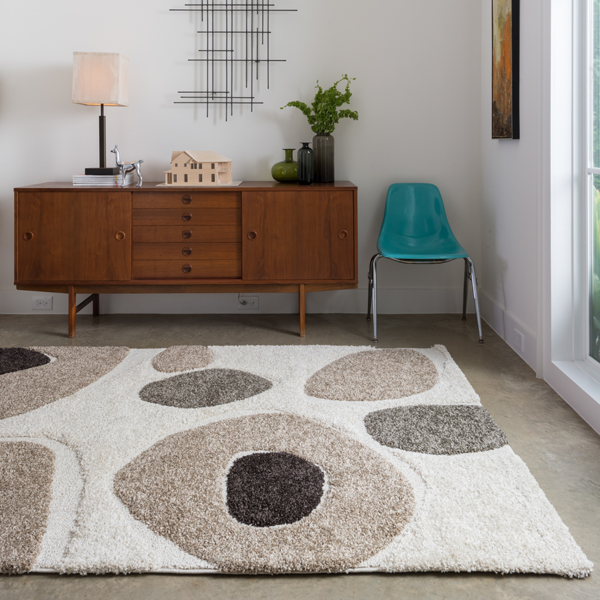 CONTEMPORARY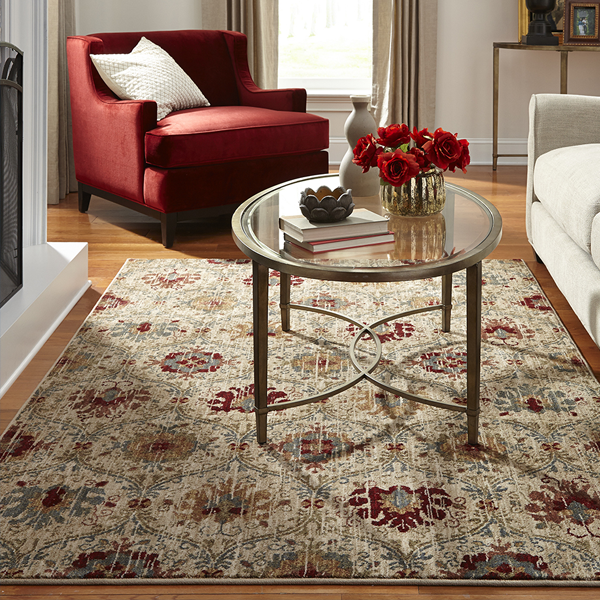 TRADITIONAL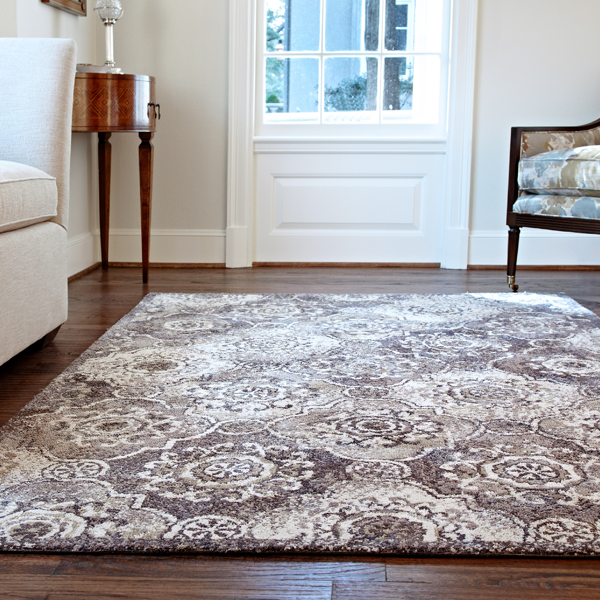 TRANSITIONAL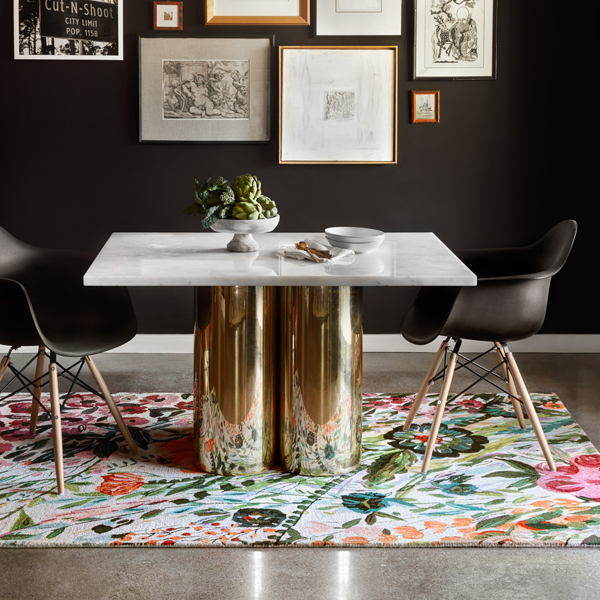 BOTANICAL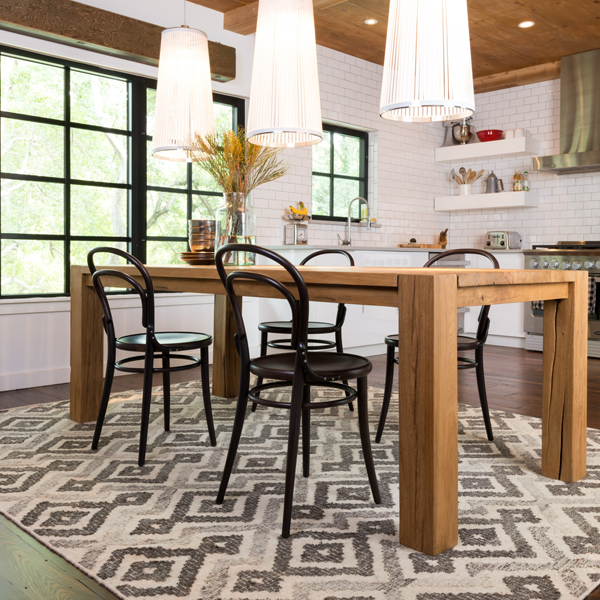 SOUTHWESTERN
FUN FACT
Where did the Persian Rug get its name? From a cat? Maybe.
Actually, Persia was the original name for Iran, where the only true Persian Rugs are still made today.
WHAT IT'S MADE OF MAKES A DIFFERENCE.

NATURAL FIBERS
Wool. Wool is an extremely versatile fiber that dyes easily, so you'll find an almost endless array of color options. Luxurious and durable, it can stand up to high traffic areas.
Cotton. This super soft fiber also comes in a rainbow of colors. Cotton is casual looking, reasonably-priced, and often machine washable. A great choice for busy families.
Jute and Sisal. Jute and sisal are extremely durable. Which is why you'll find them sporting textures and weaves that other fibers simply can't deliver.
Silk. Usually combined with other materials such as wool, silk naturally has a silky soft feel. These exquisite fibers also give the rug depth and create a luxuriant sheen.
SYNTHETIC FIBERS
Nylon. The limitless colors this fiber offers won't limit your imagination. It's also durable, resists dirt and scoffs at crumbs. Which is why nylon gets high marks in high traffic.
Polypropylene. Also called olefin, this durable performer is affordable, holds color well, and repels both stains and moisture. That's why it's even suitable for use outdoors.
Polyester. Another durable option, polyester is not known to bleach or fade easily. So it can definitely stand up to kids and pets crawling around on it.
DON'T FORGET THE PAD.
You'll definitely want to use a rug pad to both protect your floor and your new rug. You may need to trim your pad, but you can do that yourself with a pair of scissors. Just trim it to about 2" inside the border of your rug.