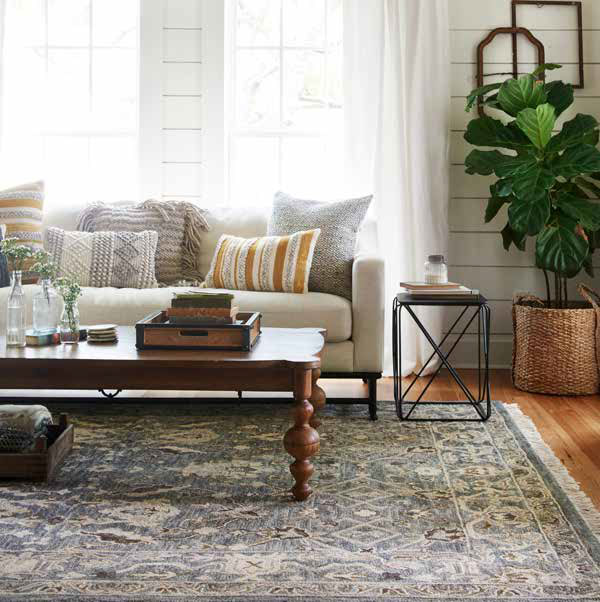 LOLOI AREA RUGS
Loloi is regarded around the world for their intentional design, premium, handwoven quality, and collaborations with tastemakers like Joanna Gaines, Justina Blakeney, and Ellen DeGeneres. A frequent winner of industry awards, including "Best Rug Manufacturer" by ARTS, Loloi has redefined fine area rugs and runners. Build your rooms from the ground up with Loloi's wide variety of area rugs in the most popular materials and sizes.
PRESTIGE COLLABORATIONS
Loloi's collaborations with design leaders produce some of the most coveted area rugs in the industry. For statement patterns in vibrant hues that add depth, dimension, and a refreshing pop to your space, shop Magnolia by Joanna Gaines x Loloi. For bold and colorful designs that stand out in your room, shop Justina Blakeney x Loloi. Or, for a more modern look with pleasing, neutral color palates that blend perfectly into many rooms, shop ED by Ellen DeGeneres x Loloi.
THE DETAILS — SIZE, MATERIAL & LIFESTYLE
Loloi's area rugs and runners are available in a wide array of sizes to complement the dimensions of any space. From 4x6 and 5x8 for smaller rooms, to larger sizes like  8x10 and 9x12 for living rooms, to circular rugs ideal for a dining room table and 6-8 chairs, Loloi has the perfect area rug for your space.
Composed of the finest quality materials, Loloi rugs are designed for those who truly appreciate refined design elements. Select from stain-resistant polypropylene, eco-friendly jute, low maintenance wool, well-rounded cotton, and more.
Loloi's luxury area rugs are handmade in India using artisan techniques refined over generations. Each part of Loloi's process is accomplished by hand, including dip-dying the wool and the elaborate process of loom weaving. The finished product is a true work of art made for the discerning design enthusiast. A Loloi area rug is more than just a floor covering; it's an extension of your aesthetic, appreciation for color and pattern, and a complement to your lifestyle.
SHOP LOLOI AT CARPET EXCHANGE
Since 1987, Carpet Exchange has provided homeowners and businesses with high-quality flooring and carpet installation. Shop our extensive collection of Loloi rugs, including Loloi's collaborations like Magnolia by Joanna Gaines, Cielo by Justina Blakeney, and ED by Ellen DeGeneres. Browse the collections online or visit us at one of our 17 retail stores across the Front Range in Colorado and in southern Wyoming to shop in person. And remember – our expert design staff is always ready to advise you on selecting the perfect Loloi area rug for your home.